Weight Pulling
Weight pulling is an activity that many breeds of dog enjoy and AMCV events welcome any breed of dog as long as they are fit, healthy, non-agressive and comply with age requirements. Bitches in season may not participate as this may prove a distraction to other dogs.
All that you need to compete in a weight pull event is a correctly fitted weight-pull harness. Some clubs may have a range of harnesses available for participants to borrow for the competition – please ask the organisers if you need to have your dog fitted for a harness as good fit is critical.
The Alaskan Malamute breed is renowned for possessing great strength and natural instinct to pull, but other breeds such as Siberian Huskies, Am Staffs and American Bulldogs can also be very successful at weight pulling. It is recommended dogs be trained to weightpull using the correct technique so as to minimise injury and to maximise pulling power.
Your dog's ability to pull heavier weight will depend more on technique than individual strength. It is highly recommended your Malamute be well trained to act on voice command as this is the only assistance the handler may provide in encouraging your Malamute to pull weight in competition.
General fitness of your Malamute must be maintained when weightpulling. Pulling heavy loads can place unnecessary strain and lead to injury if you do not maintain sound physical condition of your Mal.
Weightpull Event Format & Schedule
Events will be conducted as per AMCV Weight-Pulling rules – copies of the rules are available on this website or from the Weight-pull Co-ordinator.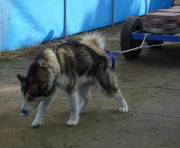 Competitors are asked to arrive in plenty of time to register, weigh-in and organise equipment if necessary. The AMCV have weight pull harnesses available in a range of sizes that competitors can hire for the event. Competitors are welcome to practise in the weight-pull chute prior to commencement of the event, but please arrive early if you wish to practice.
The Competition
The dog must first qualify for the event which is usually achieved by by pulling the empty trolley a required distance within a time limit, or by pulling a nominated start weight (see rules for details). Most weight pull rules dictate that the distance required for the pull is around 16 feet (5.4 metres).
After each dog has attempted the pull, the trolley is loaded with more weight. Dogs that successfully pulled the previous weight then attempt to pull the next highest weight.
A dog is out of the competition if it fails to pull the loaded trolley within the allocated time, and the dog's result is recorded at the highest weight successfully pulled.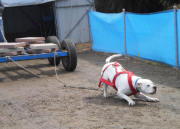 When the weight being pulled is under 500 kg, the dog is allowed two attempts to pull the trolley. Once over 500 kg, dogs are only allowed one attempt. In some competitions the dog may be allowed two chances to pull the weight, some only allow one pull attempt.
Eligibility: Any dog over 18 months of age (but not bitches in season) may compete in an AMCV weight-pull event.
Please note that dogs that are deemed to be not in good health or condition may be refused entry, and bitches in season may not be brought to events.
Handling: The handler may either stand in front of the dog behind the designated line, or stand behind the trolley and must be in position before commanding the dog to pull.
In most competitions, dogs must pull on voice command only and handlers may not touch a dog during a pull.
Passing: In most competitions handlers may be permitted to pass one or two pulls if they feel confident that their dog will pull the next highest weight.
Tangles: In most weight pull events, if a dog attempts to leave the chute, becomes tangled in its harness or lines, or moves behind the front of the trolley this is deemed a "tangle" and the pull is stopped until the situation is rectified. The trolley is then repositioned at the starting point and the pull is recommenced. A dog may be disqualified if a "tangle" is declared twice within one pulling attempt, however this may vary depending on the rules the event is being conducted under.
Dog, Handler & Spectator Conduct: So as not to interfere or distract dogs in the chute from pulling, the following rules often apply:
Dogs that are not pulling should be kept well away from the weight pull chute and should not be in sight of dogs that are in the chute.
Spectators should stand back from the chute and must not have any food near the chute.
The only person who may call or signal to a dog during a pull is the handler – "double-handling" is generally not permitted.
Officials have the right to disqualify a dog from the competition if the dog's wellbeing is being jeopardised.
Physical or verbal dog abuse is not tolerated.
Aggressive dogs may be refused entry or be disqualified from the competition.
Please look after your dogs and make sure they have water and shelter. If you feel your dog is struggling please withdraw them from the event.
Weight Pull Classes
Before the competition commences, dogs must be weighed to determine which class they will be competing in. The club holding the event will usually have a set of scales suitable for weighing dogs at the event for this purpose.
Dogs are generally called into the weight pull chute in order of their weight so competitors need to listen for their dog to be called.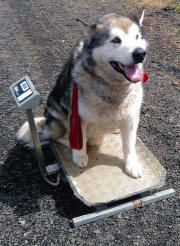 The results of the competition are based on the overall weight that the dog pulled within the class, as well as weight to weight ratio, i.e. how much the dog pulled relative to its body weight.
Weight pull classess offered by the AMCV are:
Up to 36 kg class
36 – 45 kg class
46 - 55 kg class
Unlimited class
Weight Pull Event Rules
Weight pull competition rules will vary from club to club, so ask the event officials if you have any questions about the conduct of the competition or if you would like a copy of the rules.
Some rules will not allow dogs to be baited with food or toys in any way, some do not even allow the handler to have any food on them. This is to ensure that the dog is pulling on command only and not to get to the bait.
Weight-Pull Events - Entries & Venue
For weight pull dates and details see the Activities & Events page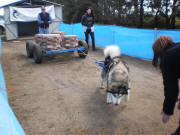 All Weight pull events are held at KCC Park, Westernport Highway (Dandenong-Hastings Road), Skye - Melways Map Reference 128 H 12
Entries are taken on the day (no pre-entry required) and all breeds and non-members are also welcome to participate.
*NOTE – Weight pull events may be cancelled if the forecast temperature on day of competition is equal to or greater than 25oC.
Further Information: Email: amcvinc@gmail.com or phone the Weight Pull Co-ordinator.
---
AMCV Working Weight-Pull Dog (WWPD) Title
For a copy of the WWPD title requirements and guidelines see the AMCV's Working Dog Title Program page.